::

Welcome to QOTU

::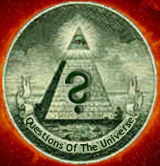 ···········
11
·
11
···········
Welcome to
Questions of the Universe (QOTU)
, a news portal featuring
daily news items
covering all the great unanswered Questions Of The Universe. Free your mind!

Some of the news topics you'll read about here are: UFO's, ghosts, cryptozoology, conspiracies, ancient monoliths, astrology, alternate histories, paranormal, fringe science, ancient prophecies, quantum physics, the supernatural, free energy, mythology & folklore...